You might be a small business, but you are competing with large enterprises for the same customers. Working in a small business is like working in smaller teams but must do 'Goliath' tasks. That's the deal – you want your resources to focus on just those super important tasks to business and automate the rest of the administrative tasks. The only way you save more time and money (which might sound ironic) is by automating most of the tasks – email marketing, campaign management, analytics, multi-channel campaigns etc.) – Enter marketing automation!
Many things can be done through marketing automation, but being a business owner, you need to focus on the objectives right for your business. Investing in a marketing automation solution could be quite intimidating to small businesses, but not anymore with the SaaS model's evolution. Neither is it reserved for large enterprises, nor is it rocket science to implement.
When do you know it's time to invest in marketing automation?
I may not have addressed the point specific to your business scenario. How can you be sure of investing in marketing automation? An ideal method is generating a steady flow of new organic leads, and you want to nurture each one of them as you would if it was a single lead. Since you are a growing business, every single lead is a big fish to fry. 
It is advisable to answer these questions yourself before making a purchase:
Is there a steady flow of new, organic, and qualified leads?

Does your marketing team overwhelm the sales team with the number of quality leads?

Do you have a content course planned for the prospect journey?

Would you want to track every touchpoint of the prospect's interaction with your business?

Do you have an effective lead nurturing strategy that you want to scale?
How Does it Benefit you?
A 'yes' to one or more of the above questions will lead you to a marketing automation solution. Now let's look at how marketing automation can empower small businesses like yours:
Build your Profitable Email Lists
You might be desperate to do a quick fix to your business. The following consequence is that you start buying email addresses of prospects from list-purchasing companies, which will only downgrade you from the reputation you've built over the years. For any business, it's vital to understand your niche market and the ideal customer profiles rather than trusting a 'list' because there are a few risks associated with using listed emails: 
Those prospects may not know you

They might not require your solution

Your email deliverability will be harmed

They don't usually include good email addresses
So it's always good to build your list with a marketing automation tool, and that too for free (because most SaaS-based solutions provide the basic plan for free). It allows you to create gated content, so people have a reason to exchange their emails in return for your content. You can also offer free (for a certain period or few users – depending on the business model) and collect the data from interested and potential prospects. Run creative email marketing campaigns by including sharable calls-to-action and thus increase the database.
Better Management of Complex Customers
One of the top reasons for the failure of small businesses is ignorance towards their customers. It is seen that 14% of staggering small companies fail because of their lack of communication with customers. And contrary to that, 69% of top performers in B2B use marketing automation for customer acquisition, and 50% use it for customer retention. 
Marketing automation (MA) helps to sketch a better lead nurturing path to effectively convert prospects to customers and smoothen the existing customer journey. How does it help in customer service?
No spamming

: The most common customer complaint is that businesses spam their inboxes. Marketing automation helps you segment the audience based on clicks, conversions, opens, and customizing your approach. When you personalize and less annoying the prospects, it reduces the spam rate.

Real-time customer service

: You don't want customers to feel neglected or keep them wait. Marketing Automation sends real-time alerts when customers open the emails, click on the link, visit the website so that you can serve them when you are on top-of-their-mind.

Inform well and sell less

: Most of the time, salespeople are too aggressive on selling rather than educating the prospects and letting them decide. You can call ketch an educational journey for the customers to communicate the information effectively. 
Marketing automation: Multi-channel campaigns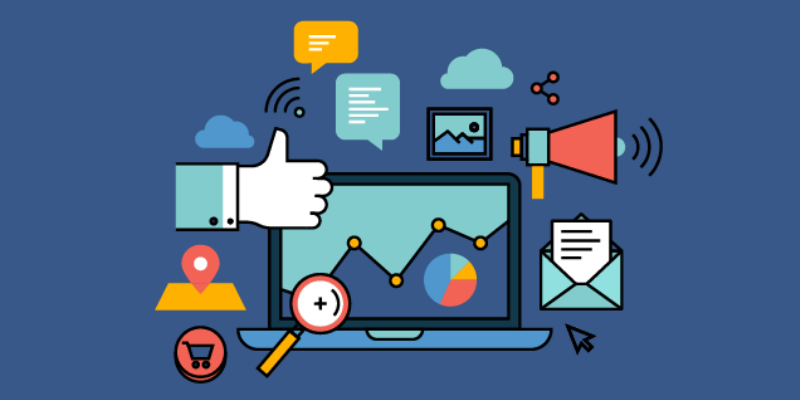 We have evolved from the traditional marketing days where businesses print advertisements on newspapers, billboards, and flyers. Customers now are on the internet – mobile, email, and social media. It's imperative that you reach them where they are and reach them on different available spaces. Multi-channel marketing is the practice of communicating with customers on various communication channels – websites, email, direct mail, mobile, social media – and maintain a holistic approach.
Marketing automation benefits small businesses to run and measure the metrics of multi-channel campaigns. Businesses can:
Maintain a synchronized brand voice across channels

Increase your reach

Maintain a single view of customer

Maintain consistency in customer experience across channels

Increase ROI
A multi-channel marketer will create a marketing mix to optimize their spending and boost ROI to 300%. If you are one of those businesses that doesn't maintain a proper digital marketing platform, it's time to leverage a multi-channel approach to find new customers and retain the existing ones.
Marketing automation: Video Emails
You must have done enough research on this effective tool – video. They are powerful marketing media to communicate with prospects. Videos are used to increase conversions, brand awareness, and educate customers. It is observed that videos increase conversion by 86%, how can you not add them to your marketing efforts?
Marketing automation empowers to leverage video assets in email marketing. It's easy to upload existing videos or create your own and embed them in emails. By including calls-to-action in the video, you can track the actions of email recipients. Or you can link an information request form to a video for lead generation purposes.
What type of content is preferable? Now that you know the importance of including videos in the emails, it's time to test what to include in the video. To start with, you can include customer testimonials or interviews regarding the products or services. Identify the customer size, demography, segment, industry and target the same segment audience to shoot the emails. This is because the same segment audiences face challenges alike, and they would be interested to know how your product addressed their challenges.
Conclusion
Today's business world is testing the survival of the fittest more than ever because there are approximately 27.9 million small businesses in the US alone. Small businesses must avail everything and anything that benefits their business to win against the run of play. Let's us know which feature of marketing automation has impacted on your ROI.