By now, we know very well that emails work better than traditional telemarketing or even the latest social media marketing. How does it remain effective even amongst the latest trends that are cropping up? There are multiple reasons – social media is effective in audience engagement, but emails prove better in converting them to customers. Email is the most cost-effective way to run personalized and customized communications. 
And choosing Gmail for your business needs (amongst any other email service providers) is the best choice a business can make. Why? Again includes many reasons. First is the huge storage space of 30GB at $5 USD and unlimited storage for $10 USD and beyond. Since it's based on the cloud, it can be accessed from anywhere. And with the signature feature of Google, searching for the required information is incredible. Gmail also stores instant messages and video conferences for future reference. But one drawback of using Google's email service is that it does not provide the functionality of tracking your emails. And that's a basic necessity of businesses today. Don't panic because there are multiple ways to track your Gmail messages. Before that, let's look at why your emails should be tracked.
Why tracking your Gmail?
Knowing that email marketing is the primary communication channel of marketing and sales, if there is no way to keep a tab on it, you may not be in a position to make make the right decisions for your business. The only reason why email crashes social media or calling is in its ability to get tracked. I'm sure you must have had questions like, what percent of the sent emails were opened, what are the engagement rates, which subscribers are interested in, which type of emails, which campaigns didn't just turn out well for you and why, what should you do to improve the overall email marketing performance, and a lot more.
You need an answer to all of these questions to streamline your efforts for better results. Scratching the surface by knowing the open rates and click-through rates is fine, but not enough. You have to dive deeper to understand the performance of the overall email marketing on conversion rates and ROI. For instance, if you are struggling to generate more revenue from a specific geography, probably you need to check the deliverability of emails to that particular region. To your surprise, you might find that there is very little subscriber engagement in that region, so you can work towards improving the deliverability and re-engage with them. This is one simple example, but there are many benefits of tracking emails. Understand your email performance, campaign performance, content performance, customer activity, the health of subscribers and how to increase the number, and a lot more.
How to track your Gmail?
If that's enough coaxing, let's look at how to track your Gmail emails. While there are some tools exclusively built for tracking Gmail, many of the tools mentioned here include tracking apart from other email functions. For instance, Agile CRM also includes other sales enablement, marketing automation, and helpdesk features apart from Gmail tracking, and Yesware allows you to perform automated drip campaigns and social selling along with tracking. Now, let's delve into each of these tools and how they work.
Mailtrack
If you are looking for a simple and easy way to understand the deliverability and open rate of emails, then Mailtrack is the answer for you. Startups or a few small and medium businesses would just want to know if their emails are opened, and Mailtrack does just that by including the double-checks – for email delivered and opened – and keeping the other Gmail experience unaltered. The double checks indicate that the email is delivered and opened, along with the information of the time the email was opened and the device with which your email was read.
How to install?
1. Open your browser – Chrome, Firefox, Opera, or Edge
2. Now go to https://mailtrack.io/ and click on 'Install Mailtrack'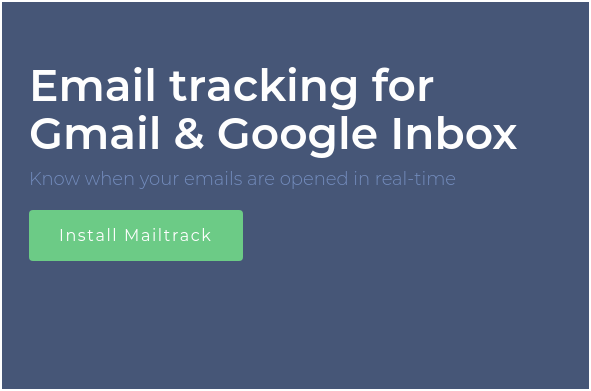 3. Sign in to your Gmail account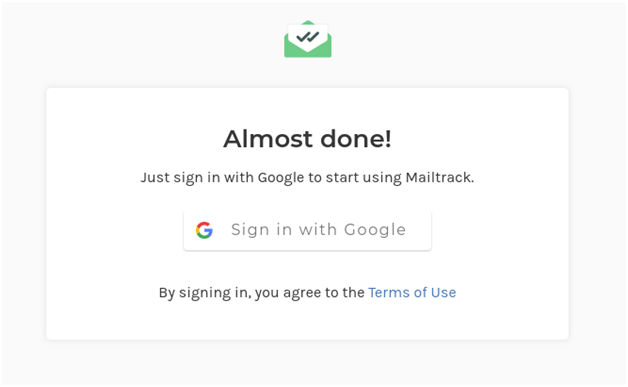 4. Authorize Mailtrack
5. Choose the pricing options, and that's it. You are ready to use Mailtrack.
Price:
It offers four plans, Free, Basic, Pro, Teams. Free offers unlimited tracking but includes 'Sent with Mailtrack', which you have to delete manually in every email you send or upgrade to Basic, Pro, or Teams to toss it out. If you want more than just double checks, you might opt for higher plans. 
Free – Unlimited tracking, Mailtrack signature

Basic – US $1.50/ user/ month (includes real-time notifications)

Pro (for individuals) – US $2.49/ user/ month (includes full tracking history, reminders, dashboards, report)
Agile CRM
Agile CRM is more than just a tracking tool, and it's a power-packed all-in-one CRM for marketing, sales, service teams. Agile CRM's seamless integration with Gmail provides 2-way email sync while perfectly tracking them through its email tracking feature. It tracks opens, clicks, attachment downloads, and also the actions of customers post-click-through. It is an outstandingly user-friendly tool that provides more advanced features along with email tracking, like sales enablement, marketing automation, help desk features. It pushes real-time notifications of the opens and clicks of Gmail messages, which appear as a pop-up on the screen. Agile doesn't just tell you on the opens and clicks, but its analytics feature run reports to help you understand the overall email campaign performance like, which email content has the highest click-through rates, what is the right time to send emails, which type of content to avoid, subject lines and a lot more. A/B testing feature optimizes email messages by automating the email flow, so you don't have to worry about which email to send. It automatically populates the best-performing email. Another beautiful feature of Agile CRM is autoresponders – they send automated messages based on the actions of the subscribers for higher engagement and further track their actions. Agile CRM is the best bang for the buck.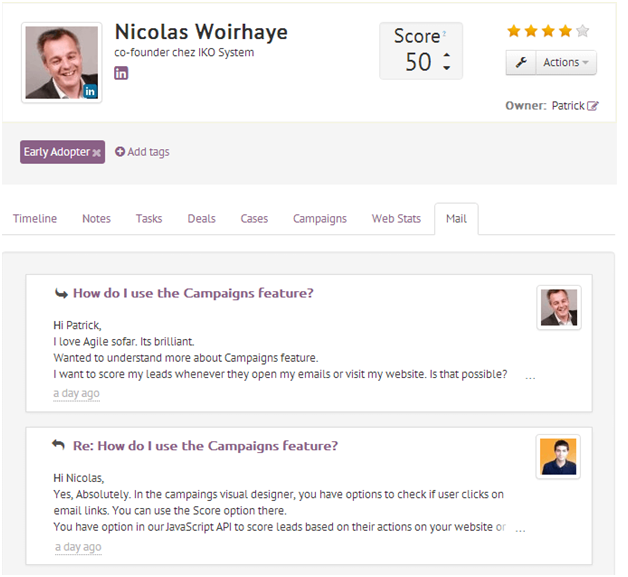 How to install?
If you are already a user of Agile CRM, go to Preferences page -> Email or Google Apps, to link your account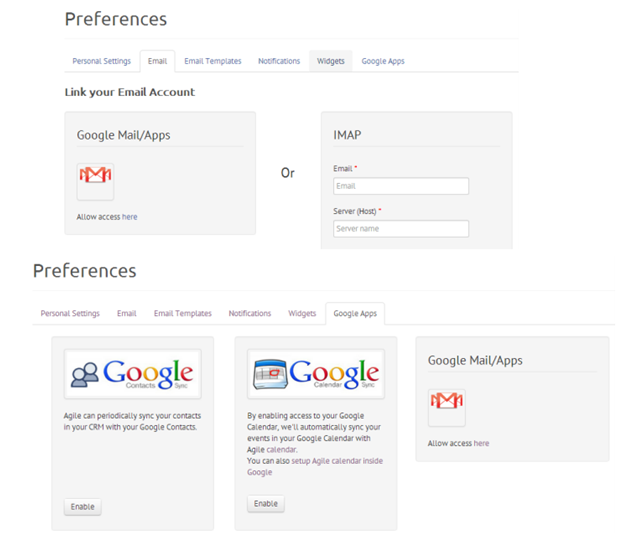 Authorize access to Agile
Sign in to your Gmail account and authorize access to Agile for 2-way email sync.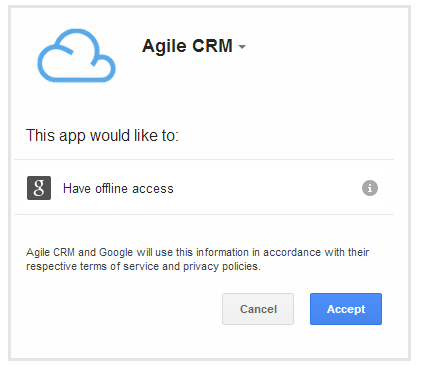 Price
Agile offers four plans, Free, Starter, Regular, Enterprise. Gmail integration and tracking feature are available from the free version – free for 10 users, 1000 contacts, and 5000 emails. Look below for more pricing features.
Free – Up to 10 users, 1,000 contacts, 5000 emails, email tracking, real-time notifications, and contact level analytics, sales enablement
Starter – $8.99/ user/ month, 10,000 contacts, 2 way email integration, marketing automation, 5000 emails free.
Bananatag
Bananatag is a powerful email tracking tool for small and medium businesses. It offers two products, Bananatag for internal communications and for sales. It integrates with Gmail or Outlook directly without altering any workflows. It allows email tracking, email opens, clicks and sends notifications through email. It does not allow A/B testing yet but would soon incorporate that feature as well. Bananatag's email analytics and reports allow you to access the comprehensive data of opens, clicks, location for where email has been opened/ clicked, the device used to access the email etc. It also allows syncing emails to CRM right from Gmail.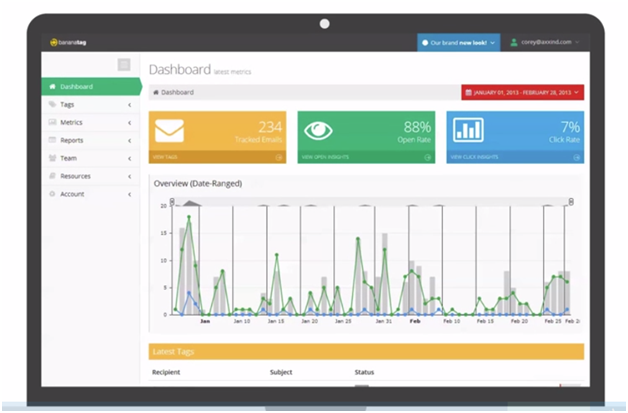 How to install?
Download Bananatag extension
Create a Bananatag account and log into the account
Navigate and click 'Resources'
'Select' the preferred email client (Chrome, Firefox) and follow the instructions.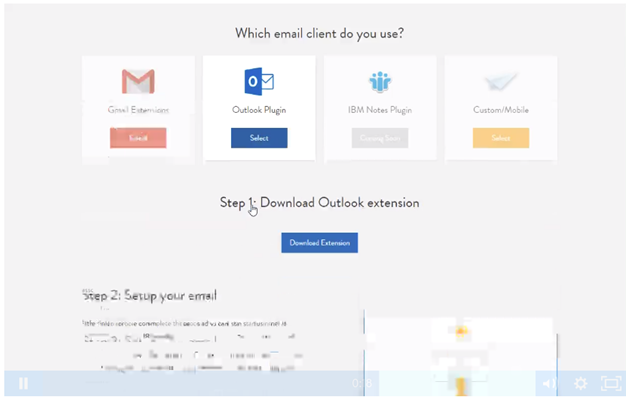 Price
Free – Up to 5 emails per day, email tracking, basic notifications and email metrics, email scheduling, email templates.
Pro – $10/month, 100 emails/ day, detailed notifications, complete metrics, attachment tracking, custom reports
Teams – $20/month, 200 emails/ day, team email templates, custom team reports, team management, centralized team billing
Streak
The 'CRM for Gmail' – Streak is a simple email tracking tool for sales, support and fundraising teams. With an email sidebar integration, Streak creates a history of the email views – how many times the email has been viewed along with the device used to access the email. One special feature of Streak is that it allows you to sort your Gmail messages based on the recent open/click/read event of the rather than the usual date and time the email was sent. This type of email sorting comes in handy when you need to do a quick follow up and not miss on any potential action of a lead. Streak sends real-time notifications as soon as recipient views the email, hovering over the icon will give the total number of views.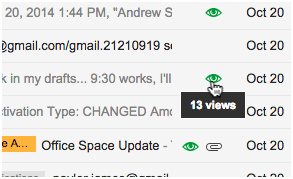 How to install?
Install Streak from a Chrome or Safari browser
Click on Add extension to complete installation
Open your Gmail account to authorize permission and grant access to Streak.
Gmail automatically reloads with Streak's extension.
Price
Personal – $0, 200 emails/ month, basic CRM features, email power tools
Professional – $49/ user/ month, unlimited email tracking, full CRM features, premium email support, advanced reporting
Enterprise – $99/user/month, custom permissions, data validation, data recovery service, dedicated customer success manager, premium phone support, 10 users minimum
While tracking the emails might not sound comfortable to many users, it is a very important aspect of businesses in ensuring customers are in sync with the brand's communications. There are hundreds of reasons on how to use tracking for the benefit of customers and businesses. Do you have a Gmail tracking tool in place, or would you like to look for an option? Let us know, in the comments below, about your thoughts.